IMPORTANT: Requests pertaining to size, dimension and shape are NOT guaranteed unless custom hardscape is purchased. For more information, please send our team an email. All stones and driftwood are natural items (unless otherwise noted) and variations in shape, size, color and natural markings and/or characteristics may or may not be present.

Due to the high volume of hardscape orders received, we cannot send photos of current inventory available or accommodate detailed customization. All hardscape sales are FINAL and are not eligible for return or exchange unless you have received the incorrect item(s).

Stones should be cleaned prior to use. Do NOT boil any stone hardscape.
Click here to shop all hardscape!

Elephant Skin Stone, also known as Seegebirge Stone, is a popular aquascaping material that is easily recognized for its unique texture and light color tone. The texture found on Elephant Skin Stone is the caused by years of weathering and natural erosion, resulting in a leathered, wrinkled appearance. Featuring occasional depressions and concave areas, Elephant Skin Stone retains a very natural appearance that works well with bright green aquarium plants. Unlike Seiryu Stone and most aquarium stones, Elephant Skin Stone does not have jagged or sharp edges and is instead a much more rounded rock, producing a softer look while being great for aquarium livestock with fragile fins such as the Betta Splendens. 
The photo below showcases Elephant Skin Stone in a UNS 75P planted aquarium (photo courtesy of Ultum Nature Systems):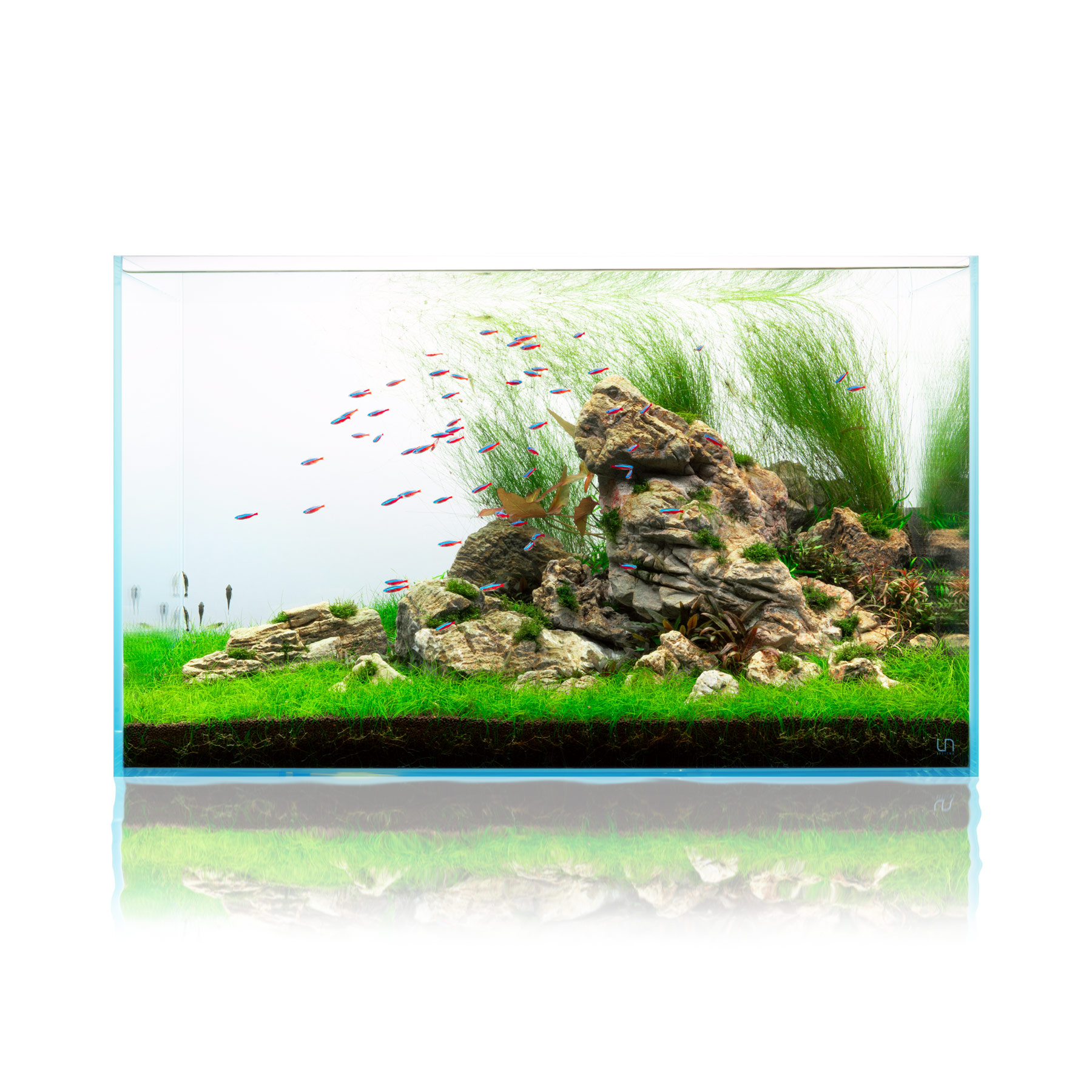 How many pounds do I need?
We advise 2 x Tank volume in gallons = Total amount of pounds required

TIP: Elephant Skin Stone features rounded edges making it great for fragile-finned livestock!
Shipping, Returns and Refunds
Shipping
Live plants are shipped Monday - Friday for all west coast orders. For all remaining states, live plants will only be shipped Monday through Wednesday and Friday to ensure they arrive at your doorstep 100% healthy.
Rimless aquariums will be shipped throughout the week via UPS or Fedex Ground. For more information, please visit our
FAQ page
.
Returns
Hard goods can be returned up to 14 days after receipt of purchase. Buyer is responsible for return shipping.
Due to its nature, we are unable to accept returns for live plants. In the unlikely event you are unsatisfied in any way, please contact us ASAP. We provide 100% DOA (Dead On Arrival) protection.
To be eligible for a refund/store credit, please contact us within 12 hours of receiving it and provide a photo of the item in its original packaging.
Refunds
No worries, we'll take care of everything as long as it fits the guidelines above.
Most answers to general questions can be found on our
FAQ page
.